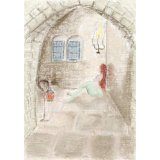 "I would like to tell you about something terrible that happened to a prince, once upon a time."
So begins A Cadence, a brand new fairy tale about beauty, stupidity, grief and revenge.
Join my mailing list today to get A Cadence to read on your e-reader, smartphone, tablet or PC.
If you're interested in storytelling and fairy tales, or just like a good old-fashioned yarn with a fussy narrator, you should give it a go.
Get this story
Many lovers of fairy tales are getting fed up with the mindless treatment they have received on film and TV recently. This story is something different. It acknowledges its place in the sea of stories. It's a re-telling, as all new fairy tales are, but I hope it treads sensitively and lovingly across old ground. I am a lover of fairy tales, and I have written a story that I would like to read myself.
Like the sound of it? Enter your email address and you'll get A Cadence to read, straight away, on your e-reader, smartphone or PC. When the next story is ready, I'll let you know by email. All the usual anti-spam stuff applies: you can unsubscribe at any time, and I won't send you anything other than what you signed up for – stories!
About me
I'm an author, editor and publisher from south east London.
If you want to, you can reach me on ben@benhoare.net.